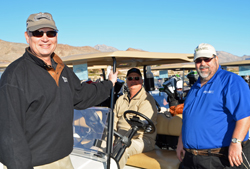 The weather is fabulous here in Las Vegas for the 18th National Ethanol Conference.
About 100 of the attendees took part in the annual golf tournament under blue skies with the mountains as a backdrop. Pictured are Renewable Fuels Association president and CEO Bob Dinneen, Big River Resources general manager Jim Leiting, and Chris Standlee with Abengoa Bioenergy.
The conference officially kicks off this evening with the opening reception, with general sessions tomorrow and Thursday. Domestic Fuel is covering both the ethanol and biodiesel conferences this week in Vegas – first time the two have been held at the same time.
Golf tournament photos have been uploaded and are now available for viewing or downloading here.

2013 NEC Golf Tournament Photo Album