The Dublin Energy Minister of Ireland and the UK Secretary of State for Energy have paved the way for the export of Ireland's wind energy to Britain. The hope is that this project will be a model for other countries as the development of a pan-European electricity grid continues.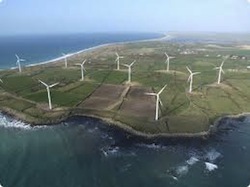 "With greater grid integration the UK and Ireland can expect more independence from imported fossil fuels, lower power prices thanks to greater competition, and more zero-carbon wind energy," said Justin Wilkes, Policy Director at the European Wind Energy Association (EWEA). "This type of win-win-win-wind solution is exactly what consumers, the UK, Ireland and the wind industry will benefit from as Europe's electricity systems and markets become more integrated. Wind energy is a key driver of this much-needed grid integration."
The recently published Energy Bill in the UK allows for the direct import of renewable power from neighboring EU Member States, and the Irish government has made clear its support for the export of wind energy from Ireland. In response, EWEA is urging the Irish and UK governments to initiate concrete plans to ensure the memorandum of understanding results in a stable legislative framework which benefits consumers and the wind industry in both Ireland and the UK.
There are a number of UK-Ireland projects under development including the 5,000 MW Energy Bridge project which would deliver Irish onshore wind power to the west coast of the UK, and the 1,100 MW Codling Wind Park which could deliver offshore electricity for 160,000 UK homes by 2020.