John Gilroy from Harney Oil Company in Coralville, Iowa and Jim Becthold from Linn Coop Oil Co. in Marion, Iowa have been awarded the 2013 Secretary's Biodiesel and Ethanol Marketing Awards. Iowa Secretary of Agriculture Bill Northey presented the awards that were created by the Iowa Department of Agriculture and Land Stewardship to recognize fuel marketers that have gone above and beyond in their efforts to promote and sell renewable fuels.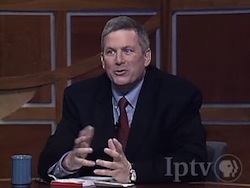 "Both winners have gone to great lengths to make biodiesel and ethanol more available to Iowa drivers and I appreciate the effort and investment they have made to promote these home-grown fuels," said Northey. "Iowa is fortunate many retailers like Harney Oil Company and Linn Coop Oil Company that make the extra effort to ensure that the fuels we produce in this state are available to customers."
Becthold, who won the Ethanol Marketing Award, was close to becoming the first retailer in the country to sell E15 last summer, but couldn't get the fuel. But with perseverance, he didn't achieve his goal of becoming first to sell the fuel blend in America, but he did become to first retailer in Iowa to sell E15. An avid supporter, he is funding a consumer ethanol marketing campaign and is also promoting the benefits of E15 to other retailers across the country.
Gilroy won the Biodiesel Marketing Award for his efforts to increase availability of biodiesel in the state. His facility has a heated storage tank, allowing the sale of 100 percent biodiesel year round and this past year, he expanded his tank. In 2012, he enabled marketers to sell nearly 12 million gallons of biodiesel to Iowans.
The Secretary's Ethanol and Biodiesel Marketing Awards were designed to recognize businesses that market the renewable fuels they have available through creative efforts including, but not limited to: hosting special events highlighting their renewable fuels, development of creative signage, initiation of new advertisements or marketing efforts, and dramatically increase renewable fuel availability.