A new initiative, MyEnergi Lifestyle, has been launched to demonstrate how a typical American family can significantly reduce their electricity bills and carbon dioxide footprint. The campaign is a collaboration between Ford, Eaton, SunPower and Whirlpool and combines energy efficiency tips with plug-in vehicle technology. Specifically, MyEnergi Lifestyle showcases how combining renewable energy generation with "time-flexible" loads optimizes energy consumption across a plug-in vehicle and home appliances.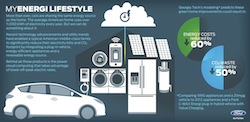 My a home incorporates MyEnergi Lifestyle, A computer model developed by Georgia Institute of Technology predicts a 60 percent reduction in energy costs and savings of more than 9,000 kg of CO2 (55 percent reduction) from a single home. The new program is being featured during the 2013 International CES in Las Vegas this week.
"More than ever, cars are sharing the same energy source as the home," said Mike Tinskey, global director of Vehicle Electrification and Infrastructure, Ford Motor Company. "The time is right for the home appliance and transportation sectors to converge if we are going to tackle a myriad of sustainability challenges in a rapidly changing world."
According to Warwick Stirling, global director for energy and sustainability for the Whirlpool Corporation, the average American home uses more than 11,000 kWh of electricity per year. However, he said, recent technologies can help a family use energy smarter and more efficiently.
"SunPower is offering Ford plug-in vehicle owners the world's most efficient solar power systems to ensure they maximize emission-free power generation for use at home and for their vehicles," said Ken Fong, SunPower general manager, Americas. "SunPower systems offer the industry's best warranty, so homeowners can count on 25 years or more of clean power to support their sustainability goals and generate significant annual savings on their electricity bills."
Joanne Edwards, added, that as innovation in home electrical technology advances, so does the need for safe, reliable power distribution. She is the vice president and general manager of Eaton's residential division and notes that giving homeowners the tools to tap into distributed power in their homes allows them to modify their behavior and reduce energy consumption.