The U.S. House of Representatives burned the midnight oil of the first day in the New Year and signed the Senate's "fiscal cliff" bill. The package includes several tax extenders items, including the reinstatement of the 2013 biodiesel blenders tax credit as well as retroactive credit for 2012. Shortly after the vote, the biodiesel industry reacted including the Renewable Energy Group (REG), the country's largest biodiesel producer.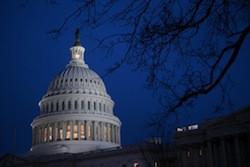 "We are thankful that Congress and the President support the growth of the biodiesel industry through the reinstatement of the credit and for recognizing biodiesel's important role in energy and food security and job creation. This tax credit provides certainty for our petroleum distributor customers and, in turn, market stability for commercial biodiesel producers like us."
The National Biodiesel Board will have something good to celebrate during its 10th Annual Conference: Momentum next month. The $1-per-gallon biodiesel tax incentive was first implemented in 2005. Congress has allowed it to lapse twice, in 2010 and again in 2012. Under the legislation approved by the House on Tuesday and first passed by the Senate on Monday, the incentive will be reinstated retroactively to Jan. 1, 2012 and through the end of 2013. Each time the tax credit lapsed, thousands of jobs were lost and production dropped.
"It's been a long year with a lot of missed opportunity and lost jobs in the biodiesel industry. But we're pleased that Congress has finally approved an extension so that we can get production back on track," said Anne Steckel, vice president of federal affairs at the National Biodiesel Board (NBB). "This is not an abstract issue. In the coming months, because of this decision, we'll begin to see real economic impacts with companies expanding production and hiring new employees."
Randy Olson, executive director of the Iowa Biodiesel Board, added,  "The passage of the biodiesel tax incentive will mean tangible job creation in Iowa and beyond.  Encouraging production of American-made fuel brings economic development and energy security – two of our nation's top priorities.  This is an investment in American energy that will pay dividends.  Although the federal Renewable Fuel Standard helped create market stability, one Iowa plant was forced to shut its doors temporarily. The reinstatement of the tax incentive will help Iowa biodiesel reach its full potential.  In 2013, we can expect a thriving industry that contributes even more to the state's economy."
It is expected that President Obama will sign the package quickly. The new Congress begins on January 3, 2013 and members have stated that they will continue to work through the country's financial issues.