The Green Restaurant Association (GRA) has endorsed Springboard Biodiesel's BioPro EX made in America alternative refueling station. The technology converts grease to ASTM standard biodiesel, which according to the California Air Resources Board, emits up to 90 percent less carbon dioxide and 50 percent less particulate matter than regular diesel fuel.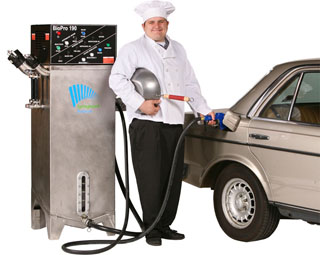 "Innovative technology such as the BioPro EX has made it possible for restaurants to recycle their grease in a simple, cost-efficient manner," said Michael Oshman, the Founder & CEO of the GRA. "While the average restaurant washes about 15 pounds of grease down the drain for every 150 meals served, restaurants that use the BioPro EX device help both the environment and their budgets."
The machine is located on site, giving restaurants the ability to convert used grease into biodiesel without having to pay a third party company a fee to come and pick up the used cooking oil for disposal – a requirement for many restaurants throughout the U.S.
"We're delighted by this endorsement," said Springboard Biodiesel's CEO Mark Roberts. "Making a clean burning fuel in an automated appliance and saving money at the same time is a truly great combination of benefits. The BioPro™ enables restaurant owners to both save money and differentiate themselves in the eyes of their customers, who are increasingly valuing green initiatives."
Restaurants who adopt the technology will earn 2.5 GreenPoints toward becoming a Certified Green Restaurant, based on the association's certification standards in the environmental category of eliminating waste.