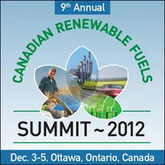 This December head to Ottawa, Canada for the 9th Annual Canadian Renewable Fuels Summit (CRFS) being held December 3-5, 2012. This year's theme, "Sustainable, Secure & Diverse Energy Now!" will focus on Canadian policy for the ethanol and biodiesel industries.
Program topics include: The Future of the Bioeconomy in Canada; Forces Shaping the North America Biodiesel Industry; Ensuring Market Opportunities and Fuel Quality Throughout the Supply Chain; Dedicated Crop Opportunities for Drop-In Renewable Jet Fuel; Industry Perspectives on Next Generation Production in Canada; and Updates from International Sustainability & Carbon Certification Association (ISCC) and Sustainable Development Technology Canada (SDTC).
Conference keynote speakers include: Chantal Hébert, Columnist for the Toronto Star; Mark Jaccard, Professor, Resource and Environmental Management at Simon Fraser University; Senator JoAnne L. Buth, Senate of Canada; and many more.
Click here to learn more about this year's program and to register online.