Propel Fuels is believed to be the first in the nation to sell consumers algae-based fuel at the pump compliments of Solazyme Inc. The two companies have joined together to offer Solazyme's algae-based Soladiesel®BD in the Bay Area. The month long pilot program provides the biofuels industry the first opportunity to test consumer response to the advanced biofuel.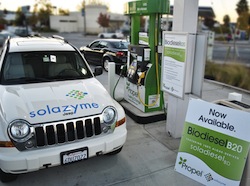 According to a statement from Propel, Solazyme's high quality algae-based SoladieselBD meets or exceeds ASTM quality specifications and has shown performance enhancements including cold temperature operating performance. The fuel is compatible with existing diesel engines and Propel is guaranteeing the fuel's performance. The algae-based fuel will be sold at the same price as conventional diesel fuels and will be available exclusively at Propel's Clean Fuel Points in Redwood City, San Jose (N. First St.), Berkeley, and Oakland.
"Propel is committed to providing our customers with access to the highest quality, most sustainable, domestically produced fuels, so we're proud to introduce the next generation of fuels to the retail market," said Matt Horton, CEO of Propel Fuels. "Propel's growing station network provides the critical link between these future fuels and today's consumer fuel tanks, giving our customers a chance to make history."
Solazyme's technology platform converts plant sugars into oils in a few days. Testing undertaken by the National Renewable Energy Laboratory (NREL) shows that, in a 20 percent blend, SoladieselBD significantly outperforms ultra-low sulfur diesel in total hydrocarbons (THC), carbon monoxide (CO) and particulate matter tailpipe emissions. This includes an approximate 30 percent reduction in particulates, a 20 percent reduction in CO and an approximate 10 percent reduction in THC.
"Solazyme's revolutionary algae-based technology platform has supplied our development partners and customers with advanced biofuels that meet or exceed some of the world's most stringent fuels specifications and requirements, " added Bob Ames, VP of Fuels, Solazyme.  "We've successfully demonstrated our land-based fuels in fleet vehicles and corporate busses, and are excited about this pilot program with Propel because it enables us to make these fuels available to the public."