The clean-up is in full swing on the east coast as a result of hurricane Sandy. The majority of people who lost power during the storm have had their electricity restored. Yet is there a better way to keep the lights on during a major weather event? Wind power might just be the answer. Several wind energy companies have said that their turbines, directly in the path of the hurricane remained operational and undamaged.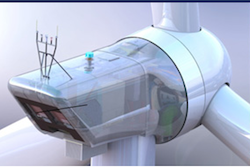 Northern Power Systems said 74 of its wind turbines remained standing, undamaged and performed safely. The turbines were designed that when each turbine detected high force winds, it automatically entered safe mode. When conditions returned to normal, each turbine began generating electricity again.
"The losses experienced from Hurricane Sandy are a tragic reminder of how powerful nature can be," said Troy Patton, Northern Power Systems president and CEO. "Many of our turbines, from the Caribbean to the eastern seaboard of the US, were directly in the path of Hurricane Sandy, but none were damaged by the high winds. At Northern Power Systems, we have the experience and commitment to continue to make products that are safe and reliable."
At the peak of energy outages, more than eight million people lost power. However, Capstone Turbine heard from its customers that its wind energy systems continued to operate seamlessly during and after the worst of the storm. Many of the buildings that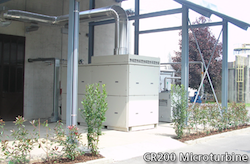 did not lose power were integral to diaster relief efforts including the Salem Community College in Salem County, New Jersey that served as a Red Cross diaster relief. The college has three Capstone C65 microturbines that provide heating, cooling and emergency powered and they succeed in their charge.
"Users around the world continue to adopt Capstone microturbines because they want the high reliability and low emission benefits of our distributed generation products," said Darren Jamison, Capstone president and Chief Executive Officer. "Hurricane Sandy is a tragedy that has had a terrible loss of life and property, but I'm proud of the performance of our Capstone product that successfully kept our customers in business during this crisis. It's unfortunate that in many cases it takes a major event like this to get people to start to think differently about how to reliably deliver their energy needs and change traditional utility buying habits."
To aid diaster relief efforts, visit the Red Cross website.