SG Biofuels has expanded it global network of hybrid trial and agronomic research sites with the addition of eight new JMAX Knowledge Centers located in Brazil, Guatemala and India. The company is also expanding it production facility in Guatemala. Current trials are underway in San Diego, California. The company focuses on the the production of Jatropha for use in biofuels, biochemicals and biomaterials.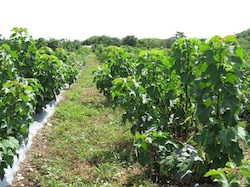 According to a company statement SG Biofuels' hybrids are performing better compared to commercial varieties across multiple geographies in terms of plant vigor, health, flowering consistency, stress tolerance and yield. The success validates the ability to produce crude Jatropha oil for less than $99 per barrel in a range of growing conditions.
"The performance of our hybrids in multiple geographies not only validates the strength of our genetics, but our ability to deploy profitable energy crop projects around the world," said Kirk Haney, president and chief executive officer. "Through our network of JMax Knowledge Centers, we are developing the highest performing hybrids of Jatropha while establishing best agronomic and production practices for deploying those hybrids at commercial scale."
According to the company, JMax Knowledge Centers are professionally managed trials using experimental design and statistical analysis to evaluate hundreds of hybrids in a range of environmental and agronomic conditions. The centers serve as outdoor classrooms where SGB agronomists and technical teams conduct training and field tours with customers and growers, develop localized agronomic studies and recommendations and develop high performing Jatropha hybrids for commercial deployment. SGB's hybrids have been developed following five years of research, drawing from a diverse germplasm library including more than 12,000 unique genotypes.