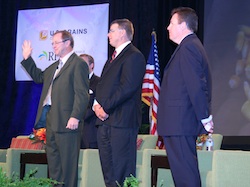 Grain buyers from around the world in attendance at the 2012 Export Exchange had the opportunity to embrace the US producers perspective on the 2012 crop through a producer panel during the opening general session. Key panelists were Ron Gray, Illinois farmer and Secretary/Treasurer of the US Grains Council, and John Mages, Minnesota farmer and Chairman of the Minnesota Corn Research & Promotion Council.
They shared their personal experiences overcoming the 2012 drought and assured buyers of their fight and passion to raise a consistent and quality product.
Listen to the entire Producers Panel here: Producer Panel at Export Exchange
Following the opening session I took the time to talk with Ron Gray, where he summed up the 2012 corn crop and how farming for him is more than a job, its a personal endeavor.
"For us the 2012 crop started out with all the hope of an extraordinary crop. We planted early, the crop went in very well, emergence was good. Then it didn't rain. Beginning the second week of May through the first week of August we only had about three inches of total rainfall and because of that our corn crop was severely reduced in production. Our farm probably averaged 50 bushels an acre, which is approximately 1/3 of our normal production. The rainfall did come later and the soybean crop is a fairly good crop, but the corn crop was devastated."
Listen to my interview with Ron here: Ron Gray Interview
Beyond simply listening to producers, international grain buyers had the opportunity to visit farms across the United States. The goal was to gain information, assess the current US corn crop, explore the availability of other grains such as sorghum and barley, and build relationships leading to future sales.
Many participants expressed a preference for buying US grains due to the consistency and quality of the grain. They also appreciate the transparency and reliability of the US marketing and delivery systems. Clearly price and availability hindered US exports this year, but buyers are looking forward to a better crop next year.
You can find photos from this years Export Exchange here: 2012 Export Exchange