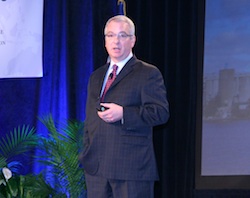 To kick off the 2012 Export Exchange attendees heard from keynote speaker Carl Casale, President and CEO of CHS, Inc., on the outlook for global grains and renewable energy.
Casale started off stated that the outlook simply depends on lots of different things and we have to focus on what we do know. He left attendees with one question: Do we have a strategy to survive, or even thrive in a volatile world?
Listen to Carl's entire presentation here: Carl Casale at Export Exchange
While interviewing him after his presentation, he discussed the long term goals for global grain production and what we should expect production wise in the next year.
"The first thing you need to do is just take a step back and look at what the global demand is going to be over the long term. We have talked about 9 billion people on the planet, that's going to require a 50% increase in grain production. As importantly, the 9 billion people are going to eat meat so there is another 50% increase in grain production to be able to feed livestock around the world. I have not seen anything that says that that's not probably where we are going to be in the long term."

"If you look at the market signals, it's telling farmers that we want more corn acres in the US coming off a bit of a short corp that we had this year. Farmers are very well capitalized. I don't think that will be an issue interms of getting hte corn produced. I think probably the biggest physical challenge we are going to have right now is we typically apply a lot of fertilizer for corn in the fall. It was so dry this year we just didn't have the opportunity to do it. So, that will put al lote more pressure on supply chains in the spring."
Listen to my interview with Carl here: Carl Casale Interview
You can find photos from this years Export Exchange here: 2012 Export Exchange