Sometimes good things really do come out of something bad.  The Great East Japan Earthquake devastated schools, businesses, homes and lives. But this week, the Japan Reconstruction Fund held a ceremony at Shinchi Elementary School to commemorate the completion of several solar facilities in four public elementary and junior high schools in the town of Shinchi in Soma-gun, Fukushima Prefecture. The solar systems are part of the city's urban development program.
The solar power projects were funded from grants from Coca-Cola Company and Coco-Cola Educational Foundation. The Fund decided to assist Shinchi Elementary School, Fukuda Elementary School, Komagamine Elementary School, and Shoei Junior High School after evaluating requests to help reinforce disaster management with new solar power facilities and to help educate pupils about clean energy.  The solar power system includes an emergency solar generator with a maximum capacity of 20 kilowatts and storage batteries with a total capacity of up to 16 kilowatts.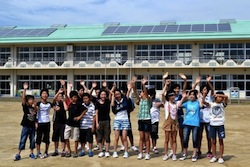 During the ceremony, Mayor Norio Kato greeted attendees and delivered opening remarks about Shinchi's recovery. Tatsuya Natori, Chair of the Shoei Junior High School Student Council, delivered a speech on behalf of all the students.
Natori said, "We were very relieved to hear that the solar system means that we can still use electricity after a disaster. We will always be grateful to the Fund for its kindness, and will study hard so we can play solid roles in local reconstruction."
While the schools are all educating students about energy and environment, they each have a different focus. For example, Shinchi Elementary School focuses on educating about solar and wind power and Shoei Junior High School plans to teach about nuclear power generation as well as solar generation. However, all of the local schools and the town will collaborate in researching solar power and announcing their findings as part of the town's overall efforts to acquire knowledge about the environment and energy.