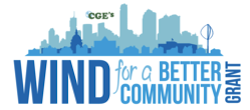 Schools, governments, public facilities and public school sectors have the opportunity to apply for a wind energy grant that will help institutions reduce their energy bills for five years. Sponsored by Clean Green Energy (CGE), the "Wind for a Better Community Grant" will be awarded to up to 25 institutions for five years. The grant recipients' buildings will be powered by the new WIND e20 wind turbine.
Once the WIND e20 begins producing energy, the institution will begin to see lower utility bills. CGE will pay for the electricity created by the turbine with the hope that the grant winners will reinvest their savings back into their community.
Those representing a school, municipality or public facility can take advantage of this opportunity by submitting an online application.  Submissions are due no later than October 6, 2012.