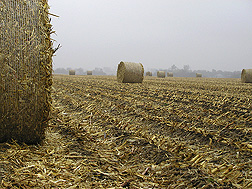 Oil and construction giant KBR will provide engineering and procurement services for DuPont's first cellulosic ethanol plant in Nevada, Iowa.
KBR will provide front-end engineering, detailed engineering and procurement services to DuPont's Industrial Biosciences Group for this first-of-a-kind plant to be constructed in the Midwest United States. The ethanol facility is designed to process 1,300 tons per day of corn stover and produce 27.5 million gallons of ethanol per year. The cellulosic ethanol product will be used as a blending component in gasoline by fuel manufacturers and will enable them to meet U.S. EPA-mandated requirements for ethanol derived from cellulosic sources.
Company officials went on to say this contract solidifies KBR's more than 20 year partnership with DuPont.