This edition of "The Ethanol Report" features comments from Bobby Likis of the Bobby Likis Car Clinic Network, a radio, television and internet distributed automotive talk show that recently partnered with the Renewable Fuels Association to help educate both consumers and automotive technicians about ethanol.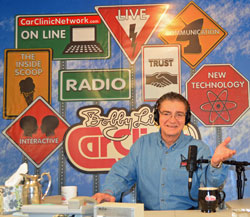 Likis recently visited Argonne National Labs and the Detroit Technical Campus of Ricardo Engines to find out more about new research to produce engines that use ethanol more efficiently. So, we visited with him to find out what he learned and what he is doing to share that information with others.
Likis is the only car-talk host on commercial radio named to the "Talkers 250," the list of the top 250 talk-show hosts in America – five times no less. He's on everywhere answering consumer car questions so this sounds like a great way to educate people who care about cars about ethanol. Find out more at CarClinicNetwork.com and check out his 20 Facts About Ethanol page.
Listen to or download the Ethanol Report here: Ethanol Report on Bobby Likis