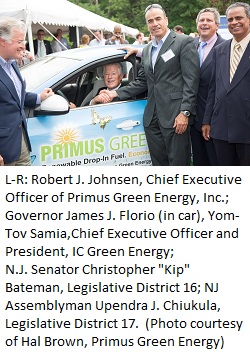 To show off their new $7 million demonstration plant in Hillsborough, New Jersey, the folks at Primus Green Energy's took out for a spin a car fueled with the company's 93-octane gasoline made from natural gas and biomass.
Primus offcials were joined by several federal, state and local officials, including former N.J. Gov. James J. Florio:
The speakers' remarks centered on Primus' landmark achievement, which marks a milestone in the transition from a fuel economy based on petroleum to one based on domestically produced alternative fuels. This theme was sounded by Gov. Florio when he reminded the audience in his keynote address that they will some day be able to look back and "take pride at being here at the beginning."
The construction of our new demonstration plant is a tremendous achievement that showcases our ability to scale our technology," said Robert J. Johnsen, Primus' chief executive officer. "We have gone from the concept stage to the demonstration stage in only five years and now, with the demo plant, we can further refine our technology with the goal of commercializing our technology next year."
Primus Green Energy has been funded since its inception by a single investor, IC Green Energy, which is the alternative energy investment arm of Israel Corp., Israel's largest publicly traded corporation.
IC Green Energy's president and CEO, Dr. Yom-Tov Samia reminded government officials of the importance of committing funds for research and development to an industry that is vital to the energy security of the United States and Israel.
The new plant is expected to be completed late this year.