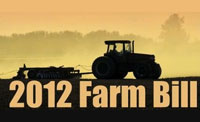 A coalition working to make sure there are resources in this year's Farm Bill to prop up renewable energy has recognized Ohio Congresswoman Rep. Marcy Kaptur and 16 other lawmakers for their work on energy programs in the current legislation:
The Ag Energy Coalition applauded Kaptur and bill's original co-sponsors, including Rep. Earl Blumenauer (D-Ore.), Rep. Leonard Boswell (D-Iowa), Rep. Bruce Braley (D-Iowa), Rep. G.K. Butterfield (D-N.C.), Rep. Donna Christensen (D-V.I.), Rep. Marcia Fudge (D-Ohio), Rep. Maurice Hinchey (D-N.Y.), Rep. Ron Kind (D-Wisc.), Rep. Barbara Lee (D-Calif.), Rep. Dave Loebsack (D-Iowa), Rep. Ben Lujan (D-N.M.), Rep. Michael Michaud (D-Me.), Rep. Chellie Pingree (D-Me.), Rep. Laura Richardson (D-Calif.), Rep. Tim Ryan (D-Ohio), and Rep. Tim Walz (D-Minn.), for their efforts:

"The Farm Bill's bi-partisan energy title has been a tremendous economic driver for communities throughout rural America, funding renewable energy and energy efficiency projects in every state and unlocking capital markets for the commercialization of advanced biofuels, biopower and bioproducts, expanded wind, and solar as well as improved energy efficiency for farmers and rural businesses across the country," stated Lloyd Ritter, a founder and co-director of AgEC.
Rep. Kaptur's bill, entitled the Rural Energy Investment Act (REIA) of 2012, is comprehensive farm energy legislation that would provide the U.S. Department of Agriculture with new resources and authorities to continue and broaden its vital mission of diversifying agricultural energy opportunities for farmers, businesses and rural landowners, saving or creating thousands of new energy employment opportunities.
Kaptur's bill would strengthen and fund the Rural Energy for America Program (REAP) and streamline the application process. In addition, it would fund several other ag-based, domestic fuel initiatives.