The summer driving season is in full swing and today there are more than nine million flex-fuel vehicles (FFVs) on American roads according to the Department of Energy (DOE). But more vehicles than FFVs can benefit from savings at the pump provided by ethanol; E10 is available across the country and E15 is being rolled out with the Midwest in the lead. Today, there are approximately 3,000 flex fuel pumps across the U.S. with more scheduled to open throughout the next few years.
One retailer who has embraced ethanol is the Martin-Eagle Oil Company. President Stephen Martin said that his company recently opened five flex fuel pumps in the Dallas-Ft. Worth Metroplex and is planning on adding more. "We decided to install Flex Fuel pumps because there are thousands of FFVs in our surrounding cities that can fuel up. It has been a successful addition to our fuel lineup and continues to grow."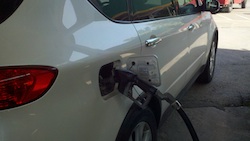 Today the average family spends 8 perent of its household income for a nationwide total near $470 billion in 2011. As consumers look for ways to save at the pump, many are doing just this with ethanol.
"Americans are standing up against years and years of price gouging and financial abuse by the likes of foreign oil to embrace an affordable solution that is home-grown and distributed in communities across the U.S," said Tom Buis, CEO of Growth Energy, an association that is working with retailers across the country to install flex fuel pumps.
Need some help finding ethanol near you? Look no further than EthanolRetailer.com, a website that features a Flex Fuel mapping tool along with a smartphone app for drivers. To promote the site, Growth Energy is encouraging Americans to embrace ethanol.
"This campaign comes at a critical time as Americans will soon be able to enjoy higher blends of ethanol fuels as the EPA recently approved provisions allowing E15 to be used in all vehicles made after 2001. Thanks to ethanol, fuel can and should be affordable for all motorists," added Buis.