The Florida Opportunity Fund's (FOF) Clean Energy Investment Program has awarded funds to LS9 to aid in the company's grand opening plans for its biorefinery in Okeechobee, Florida. Earlier this year, FOF awarded LS9 $4.5 million to help fund the retrofit of their demonstration facility that when in operation will produce biodiesel and renewable chemical products. With the retrofit complete, the company will begin scaling up its technology to commercial production levels.
LS9 will be hosting a grand opening event on Tuesday, June 12th at its facility to showcase its technology and products. U.S. Congressman Tom Rooney (R-Fla.) will be on hand along with other notable persons and company representatives. The company anticipates production will begin this summer.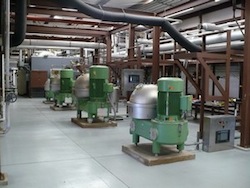 "LS9 has been working diligently to complete the retrofit of our Okeechobee facility, and we greatly appreciate the support of the Florida Opportunity Fund on this project," said Ed Dineen, LS9 President and CEO. "We are honored to have the support of Congressman Rooney for our Grand Opening event and believe this facility can be a magnet for attracting other advanced agricultural and bio-product technologies to the state. Our Florida location is ideal as it allows for prime access to the feedstocks required to produce our renewable products."
The company plans on producing biodiesel as its first product. In addition, the demonstration biorefinery will produce commercial samples for testing and product qualification by key partners and potential customers. The plant will also test and optimize new process conditions – all in preparation for commercial scale production.
Jennifer Dunham with Florida First Partners, the manager of the FOF Clean Energy Investment Program added, "The State of Florida recognizes the need for adoption of renewable energy products and remains committed to supporting companies, such as LS9, striving to produce these technologies."