Big River Resources, LLC has become the 66th associate member of Growth Energy, the leading coalition of U.S. ethanol supporters. Big River adds its three plants, located in Galva, Ill., Dyersville, Iowa and Boyceville, Wisc., to Growth Energy's plant membership, making a total of 79.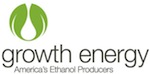 "Being able to add the three Big River Resources plants to our coalition is a great accomplishment," said Growth Energy CEO Tom Buis. "This group represents a large market share across the Midwest, and is directly responsible for producing a significant quantity of ethanol. Their membership further enhances our ability to raise awareness of the benefits of ethanol as a fuel source, as well as better educates Americans on the importance of diversifying our energy basket with home-grown products."
Big River Resources, which began producing ethanol in 2004, now has the capacity to produce approximately 400 million gallons of ethanol per year, and purchases approximately 138 million bushels of locally-grown corn. In total, the company owns four separate ethanol, feed and corn oil producing facilities across three states, employing more than 230 people and earning revenues in excess of $1 billion. The addition of the three plants greatly increases Growth Energy's reach and visibility across a key market.
"We are enthusiastic in promoting our company's original goals and feel that Growth Energy is an effective means for promoting these goals," said Big River Resources President and CEO Raymond Defenbaugh.