It's NBA Green Week this week, sponsored in part by Sprint, and many companies are finding unique ways to reach basketball fans with green messages. One such partnership is between FirstEnergy Solutions and the Cleveland Cavaliers.  On April 10, FirstEnergy donated 40 Renewable Energy Credits (RECs) to offset the electricity use during the game. The REC's were generated at the Meyersdale wind facility located in Somerset County, Pennsylvania.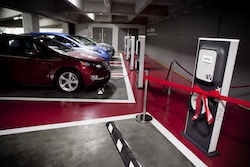 How does a REC work?  When a renewable energy facility, such as a wind farm, produces electricity that is certified and then sold into the wholesale electricity market, REC's are produced. (This is similar to a Renewable Identification Number (RIN) being produced for a gallon of ethanol or biodiesel.) Ultimately, RECs represent the positive environmental attributes associated with renewable energy.
Dave Hennekes, vice president of Retail Marketing at FirstEnergy Solutions said his company was pleased to donate the renewable energy credits for the game in an effort to help support further development of renewable energy.
Here are a few other initiatives:
Golden State Warriors and Esurance partnered to promote eco-friendly transportation options in the Bay Area on March 29.
Phoenix Suns are supporting a solar energy project.
The Trail Blazers unveiled several electric car charging stations at Rose Garden.