As Congress resumes work for 2012, the American Coalition for Ethanol (ACE) is urging its grassroots members and all ethanol supporters to attend the "Biofuels Beltway March" in Washington, DC. ACE's fly-in for Capitol Hill visits will be held Tues., March 27 and Wed., March 28, headquartered at the Washington Court Hotel.
"Historic opponents to ethanol are again ramping up their misinformation game in an attempt to discredit the significant benefits seen as a result of the Renewable Fuels Standard (RFS) and it is imperative for our industry to proactively convey to Members of Congress that the RFS is successfully displacing foreign oil imports, creating American jobs, and reducing toxic pollution from gasoline," said Brian Jennings, Executive Vice President of ACE.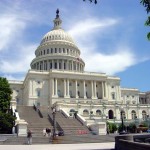 Participants will break into teams for visits to Capitol Hill offices, meeting with Members of Congress or their staff about the RFS, ethanol infrastructure such as blender pumps and flex-fuel vehicles (FFVs), and educating Congress and federal agencies about the clean-octane benefits of ethanol. Sixty ethanol advocates met with more than 160 congressional offices during last year's fly-in, and ACE is hoping for even greater attendance this year.
"Face-to-face meetings between constituents and lawmakers are the best way to make sure our consumer fuel choice message is heard," said Jennings. "We encourage grassroots ethanol supporters to sign up for this fly-in and help explain that the RFS is accomplishing its purpose and will be the driver to help commercialize the next-generation of biofuels."
Register with ACE for the event or get more information.