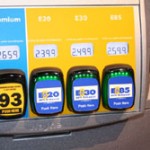 A new blender pump is now available at Trotter Service in Arcadia, Neb.
This E85 blender pump is one of approximately 60 in Nebraska to offer the renewable fuel, ethanol. This station will offer unleaded, E10 and other mid-level ethanol blends including E85 and diesel. Trotter Service in Arcadia is a full service station, according to the Nebraska Ethanol Board and the Nebraska Corn Board.
More than 117,000 Nebraska motorists currently own a flexible fuel vehicle which can run on any blend of ethanol and gasoline, up to E85. To confirm if a vehicle is an FFV, drivers can check their owner's manual or their gas cap for the flex fuel emblem.



"E85 is cleaner than gas. It's produced right here in Nebraska and more and more vehicles can use it every day," said Todd Sneller, Nebraska Ethanol Board's Administrator. "When flex fuel drivers fill up on E85, they're strengthening Nebraska's economy, making our country more energy independent and being easier on the environment."
"Giving consumers a choice is also another benefit. This new blender pump will offer flex fuel vehicle owners a fuel choice based on price, performance, and availability," said Kim Clark, Ag Program Manager with the Nebraska Corn Board.
Sign up for the Nebraska Ethanol Board's FFV club for updates of new E85 locations and other announcements.