The biofuel industry was invited to tour OriginOil's algae technology during the recent Algae World Australia conference. The end-to-end algae production project is located in North Queensland, Australia. Riggs Eckelberry, company CEO, spoke during the conference and joined the visitors touring the facility, which is operated by their partner MBD Energy on the James Cook University campus (JCU) in Townsville.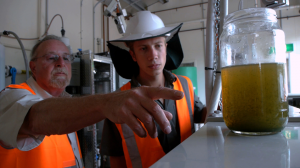 "We were incredibly impressed with the professionalism that the joint MBD and JCU team showed in putting on this site visit," said Eckelberry. "Next-generation algae production has been integrated into an end-to-end system for the first time, and we're proud to be part of this effort."
The tour also included the Tarong Power Station, near Brisbane, where visited were able to check out a new industrial demonstration site that MBD is building to capture flue-gas CO2 produced by the coal-fired power plant. MBD plans to use the large-scale OriginOil Single Step Extraction systems to harvest algae at the one hectare site.