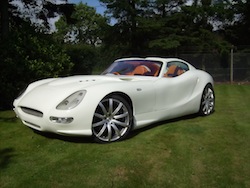 In the market for a sexy sports car? Than look no further than the new British-born Trident Inceni, a biodiesel powered "supercar". The car will be officially unveiled during the Cholmondeley Pageant of Power in Cheshire, England being held July 15-17, 2011. The event is a showcase of performance and power that includes car racing, power boat racing, aerobatics, and military action.
The two-seater super car can travel up to 100 miles on a single gallon of fuel and up to 2,000 miles on a full tank. The company credits its phenomenal gas mileage on its patented technology called torque multiplication. The Trident Inceni can reach speeds of up to 200 mph. It sports a 6.6 liter V8 turbodiesel giving it enough power to go from 0-60 mph in 4 seconds. According to the company, this "flex-fuel" sports car can run on any blend of biodiesel including B100. What might this beauty set you back? A mere $150,000 – but think about all the money you'll save in fuel.
During the Cholmondeley Pageant of Power, the Trident Inceni will show off its wares during several on-track performances scheduled to take place throughout the event.