The utility that provides almost all of the power for Hawaii has been given the go ahead to use biodiesel for some of that power production.
The state's Public Utilities Commission has cleared Hawaiian Electric Company to use between three and seven million gallons of the green fuel made from used cooking oil and waste animal fat, from Iowa-based Renewable Energy Group. This post from BrighterEnergy.org says Maui Electric Company has also been given the go-ahead to use biodiesel from Malaysian conglomerate Sime Darby made from palm oil at a demonstration plant: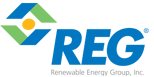 HEC will be using the recovered oil biodiesel known as REG-9000 in the new 110-megawatt combustion unit at the Campbell Industrial Park Generating Station, which was completed last year.
The new unit can start quickly and also increase or decrease power output quickly, with HEC saying it would be important in helping balance the electricity network as more intermittent renewable energy sources like wind or solar power come online. It will also help restart the electric system in the event of a blackout.
Meanwhile Maui Electric is to demonstrate the use of biodiesel in replacing petroleum-based diesel in its generating units at Ma'alaea over a four-month period. The test will assess impacts on air emissions, heat rate, operations and maintenance costs.
The projects will help Hawaii reach its goal of getting 40 percent of its electricity from renewable sources by 2030.