The New York International Auto Show is set to to kick off April 2, 2010 and many car companies are previewing their latest in "green car" technologies. Yesterday, Chevrolet announced a partnership with ConEdison to introduce the electric-plug-in (and flex fuel vehicle) Chevy Volt to New York. The Volt is scheduled to go into full production in the fall of 2011 and in the meantime, Chevrolet plans to deliver 100 Volts to 10 utilities across the U.S. This "demonstration" program includes 500 charging stations that will be installed for residential, business and public use.
"Chevrolet is committed to a successful Volt launch, and to achieve that, we need to work with our utility partners to introduce our customers to electric vehicles and the infrastructure that will support them," said Jim Campbell, U.S. vice president, Chevrolet marketing. "So far, we have invested more than $700 million in the U.S. to reinforce our leadership in this new technology."
However, electric is not the only technology Chevrolet is offering for the near future. Tomorrow they will announce the new 2011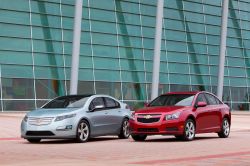 Cruze Eco, a compact car that is powered by a 1.4 liter Ecotec turbocharged engine with variable valve timing that is estimated to achieve 40 highway miles per gallon. Chevrolet is promoting this car as delivering the best economy in the compact segment. The car will be available later this year.
"The Cruze Eco offers hybrid-like efficiency without the price tag," said Campbell. "Along with the Volt electric vehicle, it demonstrates how Chevrolet is working to bring new products to market that range from gas-friendly to gas-free."