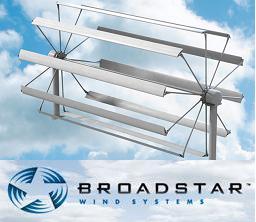 Retail giant JCPenney has inked an agreement with BroadStar Wind Systems to install BroadStar's unique wind turbines at the retailer's massive 1.6 million-square-foot distribution center in Reno, Nevada.
This press release posted on MarketWatch.com has details:
The pilot program will utilize BroadStar's innovative, building-mounted AeroCam wind turbines, which capture wind energy and generate power more efficiently than conventional propeller and fixed-blade turbines. After installation is completed in November 2008, JCPenney will purchase electricity generated by the system from BroadStar.
"This endorsement by JCPenney is particularly pleasing to our efforts," said Stephen Else, president of BroadStar Wind Systems. "The commitment by JCPenney to adopting renewable energy is indicative of a major and emerging trend in U.S. retailers to utilize their own facilities and resources to help solve the electric generation and transmission issues we face in North America. Penney's endorsement of AeroCam technology represents a great move forward in the adoption of wind turbines in the emerging commercial wind space."
Commenting on the agreement, Jim Thomas, vice president and director of corporate social responsibility for JCPenney said: "This wind power project furthers our commitment to incorporate sustainability into all aspects of our operations. We will closely monitor the results to determine how we can best leverage this technology to make use of renewable energy while also benefiting our business."
BroadStar officials tout their system not just for its compact design but also for its ability to operate in turbulent wind conditions… something conventional propeller turbines have trouble with.