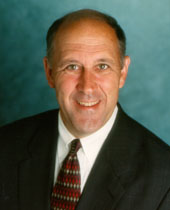 Wisconsin's first soybean crushing facility is being built… thanks to a $4 million grant from the state.
Gov. Jim Doyle handed out the money to farmer-owned Landmark Services Cooperative, which has plans to process 20 million bushels of soybeans each year at the plant:
"The soybeans Wisconsin grows so well will stay here in the state, get processed in Evansville and may end up fueling the tractors along these roads," Governor Doyle said. "This facility offers us a way to create jobs, free us from big oil companies and advance our commitment to renewable energy."
A soybean crushing facility separates soybean oil from the rest of the bean, which can then be processed into bio-diesel. Currently, most of the state's soybean crop is processed in other states and sold back to Wisconsin farmers for feed. Last year the state's first large-scale commercial biodiesel plant opened in DeForest with the capacity of producing 20 million gallons of biodiesel annually from a variety of feedstock sources, including soybean oil.
Despite Wisconsin being one of the nation's leader in soybean and renewable fuel production, it did not have a soybean crushing facility.