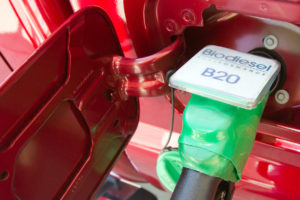 For the fourth year now, Minnesota will move to a 20 percent biodiesel blend (B20) during the summer months before reverting back to five percent biodiesel blend (B5) on Oct. 1.
"With the ongoing debate around 'Clean Cars' and electric vehicles, we know that biodiesel is a proven, reliable solution to address climate and energy concerns. It's reducing carbon right here, right now," says Minnesota Soybean Research & Promotion Council (MSR&PC) Senior Director of Product Development & Commercialization Mike Youngerberg, who's also executive director of the Minnesota Biodiesel Council.
In 2020, using B20 in the summer and B5 in the winter has removed an estimated 1,252,967 tons of CO2 from the air. This equates to removing the emissions of nearly 246,000 passenger vehicles each year. According to the National Biodiesel Board, biodiesel Greenhouse Gas (GHG) reductions are on average 80% below petroleum diesel. Studies show biodiesel lowers particulate matter by 47%, reducing smog and improving Minnesota's environment. Each year, cleaner-burning, renewable biodiesel displaces roughly 130 million gallons of petroleum diesel in Minnesota.