U.S. Mayors have signed a revised climate protection agreement that for the first time focuses on local actions to adapt cities to changing climate conditions. The agreement is also aims to build grassroots support for local conversation efforts. The action took place during the 82nd Annual U.S. Conference of Mayors (USCM) meeting where one area of focus was climate change and the role energy efficiency and renewable energy could play in reducing greenhouse gas emissions such as carbon.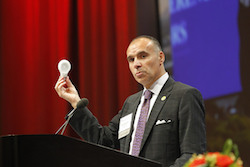 The Agreement also urges federal and state governments to enact bipartisan legislation, policies and programs to assist mayors in their efforts to lead the nation toward energy independence. Following the signing ceremony, U.S. Energy Secretary Ernest Moniz and Environmental Protection Administrator Gina McCarthy congratulated the Conference on their work and engaged in an interactive discussion with mayors from the audience.
USCM President Sacramento Mayor Kevin Johnson said mayors have been leaders on climate protection, whether it's cutting carbon emissions or preparing their communities for the effects of climate change. "In the 3.0 era, mayors are innovating, working with the best and the brightest, to lead on climate. Mayors are getting smart about sustainability. We're moving from fossil fuels to alternative fuels, from waste to reuse. Mayors are using technology and innovation to do what we couldn't do ten years ago. We're boosting our economies and protecting our climate at the same time."
The climate initiative was first launched 10 years ago in February of 2005 and at the time the U.S. Mayors' Climate Protection Agreement was a landmark pledge by mayors from all across the country to take local action to reduce carbon emissions from city operation and by the community at large, consistent with the goals of the Kyoto Protocol. More than 1060 mayors signed the Agreement, mostly representing larger cities. Since then, USCM has been recognizing mayors for their successful efforts through its annual Mayors' Climate Protection Awards.
USCM Energy independence and Climate Protection Task Force Co-Chair and Bridgeport, CT Mayor Bill Finch noted, "This is not a cause for mayors. This is a pragmatic problem that requires pragmatic solutions. Mayors across the country are investing in the future by tackling climate change head on. And, those who have signed onto the U.S. Conference of Mayors agreement have made more progress on beating back climate change in their cities than those who have not. Continue reading →