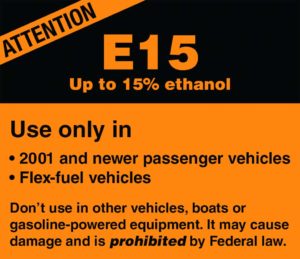 Legislation passed last week by the Indiana General Assembly would require an additional warning label for consumers on fuel pumps dispensing E15 (15% ethanol).
Senate Bill 303 would require E15 fuel dispensers to display the statement "Attention: E15. Check owner's manual for compatibility and warranty requirements" or a similar statement next to the fuel grade selection button. This would be in addition to the current orange and black label that is required under current federal regulations. The law makes the failure of an owner or operator of a fuel dispenser to comply with the gasohol dispenser statement requirement a Class A infraction.
Growth Energy CEO Emily Skor sent a letter to Indiana Governor Eric Holcomb urging him to veto the legislation. "In the wake of COVID-19, the last thing Indiana's economy needs is an assault on ethanol producers and our farm suppliers across the entire state. If the governor allows this anti-E15 bill to become law, Indiana farm families are going to be reminded of it every time they fill up at the pump."
The legislation also "provides that an underground storage tank may not be installed for the purpose of storing regulated substances unless the underground storage tank system meets certain requirements and establishes new maximum vapor pressure limits for ethanol-blended fuel.