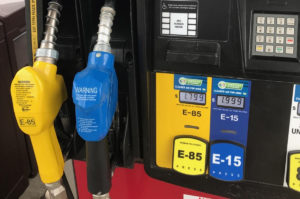 Higher ethanol blends seem to have weathered the 2020 pandemic well despite an overall drop in fuel consumption, according to the Renewable Fuels Association.
In Iowa, sales of E15 (15% ethanol) jumped 24% and set a new record in 2020. Meanwhile, E15 and E85 flex fuel data from Minnesota and California show that 2020 sales volumes generally held steady, even as COVID-19 crushed overall fuel demand.
"The recent state-level data on E15 and flex fuel consumption offers great news for consumers, ethanol producers, and anyone else who cares about cleaner air and lower prices at the pump," said RFA President and CEO Geoff Cooper.
Iowa retailers sold 60.59 million gallons of E15 in 2020, up from 48.96 million gallons in 2019 and more than double the 2017 volume of E15 sales.
E15 sales grew in Iowa despite a 14.3% drop in the state's overall motor gasoline consumption from 2019 levels. The plunge in Iowa gasoline demand mirrored the national trend, which saw a 13.5% reduction in 2020 compared to 2019.
Recent data from the Minnesota Department of Commerce show 2020 E15 sales were down just 4% from 2019 sales levels, despite the pandemic, and the California Air Resources Board shows sales of E85 dropped only 0.6% from 2019. In contrast, California's overall gasoline consumption fell 18.5% in 2020.