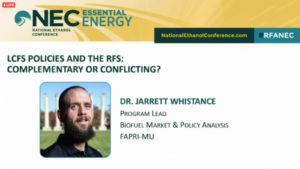 Do Low Carbon Fuel Standard (LCFS) policies conflict or complement the Renewable Fuel Standard (RFS)? That was the question Dr. Jarrett Whistance with the Food and Agricultural Policy Research Institute at the University of Missouri was called on to answer at last week's National Ethanol Conference.
Whistance, who is Program Lead for Biofuel Market and Policy Analysis at FAPRI-MU, said he believes a national LCFS could provide an avenue to expand ethanol use through higher blends, but there are many questions to be answered. "How would ethanol be treated versus electricity and renewable diesel…and what would the vehicle markets look like in the future?" said Whistance. "The role of electrification is probably the elephant in the room and is going to be a big uncertainty as we look forward."
Listen to his presentation here.
2021 NEC presentation - Jarrett Whistance, FAPRI-MU 25:54
Did you miss the live National Ethanol Conference last week? Not to worry! All of the info-packed sessions, discussions, industry outlooks and more are available on-demand for those that register by March 5, 2021.