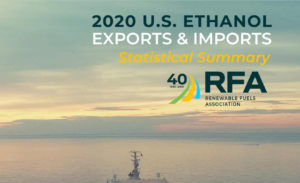 The export market for ethanol and its livestock feed co-product distillers grains (DDGS) will be one of the topics addressed at the digital National Ethanol Conference, which starts today.
The Renewable Fuels Association recently released two reports summarizing 2020 U.S. ethanol and distillers grains export and import data.
According to the reports, more than 1.334 billion gallons, or about 10 percent of the ethanol produced in the United States, were exported in 2020 to 90 countries on six continents. While this is 9 percent lower than 2019, it remains the fourth largest export volume in history.
Distillers grains exports totaled 10.958 million metric tons in 2020, a slight improvement on 2019 and the seventh straight year these exports exceeded 10 million metric tons. A record high share of total U.S. distillers grains production, 38 percent, was exported in 2020.
RFA Chief Economist Scott Richman breaks down the numbers in this interview and be sure to catch the NEC panel on international trade Wednesday at 2 pm central.
2021 NEC Interview with Scott Richman, RFA 6:33