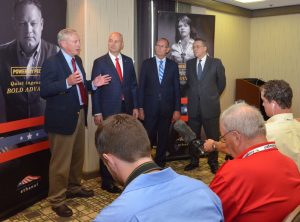 Duane Kristensen, general manager of Chief Ethanol Fuels in Lexington, Nebraska, had the opportunity this week to stand with the governor of his state and talk about the success story of ethanol at the annual American Coalition for Ethanol (ACE) conference in Omaha.
Kristensen, who serves as ACE board vice president, started the business session of the conference Wednesday by describing the evolution ethanol has had in the state of Nebraska and a snapshot of the state's ethanol industry in 2017. The state currently has 25 ethanol plants constructed, with additional plant innovations underway, and production this year reached 2.2 billion gallons.
"I guarantee you the ethanol industry is poised to grow and will continue to grow," Kristensen said. "You look at the investment that the industry is making not only in Nebraska but around this country."
Kristensen was also able to tell reporters about the success of Nebraska's ethanol industry during Gov. Pete Ricketts' press conference about value-added agriculture.
Audio file: Duane Kristensen, Chief Ethanol Fuels, opening comments
2017 ACE Conference Photo Album