This past weekend, Bobby Likis Car Clinic listeners heard straight talk on #ethanol from Brian West, deputy director of fuels, engines and emissions research center at Oak Ridge National Laboratory (ORNL). West was on Likis' nationally syndicated radio talk program on Saturday, July 9, 2016. West in an expert in the automotive field and has conducted research in the areas of vehicles, advanced fuels, emissions control, materials and combustion. He is currently working on fuel economy and greenhouse gas reduction benefits of high-octane fuels like ethanol.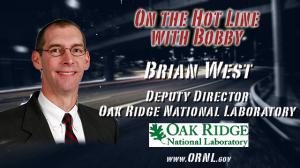 Likis said leading up to the program, "Sensationalism and rhetoric are out regarding ethanol. Science-based fact which has no affiliation–except with the truth–is in. So tune in, and let the data speak for itself."
West, who is a Society of Automotive Engineers Fellow and Co-Lead of the Department of Energy's Intermediate Ethanol Blends Program among other distinctions, added that he was happy to join Bobby on Car Clinic to talk about some of our work with ethanol blends. "Informed consumers, indeed, make better decisions," he said.
Likis invited West on Car Clinic air to provide his audience of automotive consumers and automotive technicians with verifiable facts about the power and performance of ethanol-blended fuels. The two experts' discussion slate included how automakers are using "downspeeding" and "downsizing" to improve fuel economy and how ethanol-blended fuels enable that scenario; the rigorous testing to which the DOE subjected E15 (15% ethanol); the dramatic octane boost that ethanol provides; and the positive environmental effects of using ethanol-blended fuels.
Energy readers – don't fret if you missed the program! You can watch the archived show by clicking here.