According to a new 2016 Fleet Purchasing Outlook study conducted by the According to a new 2016 Fleet Purchasing Outlook study conducted by the NTEA – The Association for the Work Truck Industry – biodiesel is now the most commonly used alternative fuel option on the market.
Each December, NTEA conducts a comprehensive Fleet Purchasing Outlook Survey to better understand the commercial vehicle landscape, including interest levels for advanced truck technologies and alternative fuels. The new survey results for 2016 show 18 percent of fleets use biodiesel now – up from 15 percent in 2015 – with more fleets planning to acquire or continue using biodiesel than any other alternative fuel option.
"The evolution of alternative fuel technologies is still triggering change for vocational truck specifications," says Doyle Sumrall, Managing Director of NTEA. "However, general interest has dropped in recent years due to persistently low oil costs and will likely remain muted until prices rebound. Despite current challenges facing the alternative fuels movement, fleet interest in biodiesel has remained strong, actually increasing in 2016 as compared to the previous year."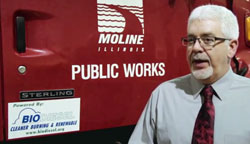 The National Biodiesel Board (NBB) notes that the City of Moline in Illinois has operated its full fleet of over 102 diesel vehicles and equipment on B20, a 20 percent blend of biodiesel with ultra-low sulfur diesel, since 2006 which has helped the city enhance the performance and minimize the maintenance of its vehicles' fuel systems at a lower cost than diesel fuel.
J.D. Schulte, Fleet Manager for the City of Moline, stated, "Here in Moline, air quality is paramount to our quality of life. We made the switch to clean, domestically produced plant-based biodiesel ten years ago, not only because it was a good choice for our fleet, but also because it was a good choice for our community. My advice to other fleet managers is, if you are conscious of and serious about air quality and looking for an easy and cost-effective solution to make a positive difference in your community, biodiesel is a natural choice."
Biodiesel is the first and only commercial-scale fuel to meet the EPA's definition as an Advanced Biofuel – meaning the EPA has determined that biodiesel reduces greenhouse gas emissions by more than 50 percent when compared with petroleum diesel. In the Gross Vehicle Weight Class 5-8 vehicles that account for 92 percent of on-road diesel / biodiesel fuel use, nearly 90 percent of the medium- and heavy-duty truck OEMs support the use of B20 biodiesel blends.