Leading up to the World Climate Summit and #COP21 that kicked off in Paris today, three major announcements were make regarding the acceleration of technological developments in clean energy and clean technologies. The first announcement came from Bill Gates about the Breakthrough Energy Coalition, that will will working directly with Mission Innovation, a "pledge" by 20 countries to commit to doubling its governmental and/or state-directed clean energy research and development investment over the next five years. More countries are encouraged to join the efforts.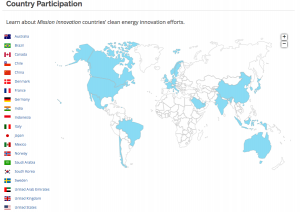 The third announcement came from President Obama who announced the U.S. will be participating in the Mission Innovation initiative.
According to the Mission Innovation website, all new investments will be focused on transformational clean energy technology innovations that can be scalable to varying economic and energy market conditions that exist in participating countries and in the broader world. The goal of the initiative is to reinvigorate and accelerate global clean energy innovation with the objective to make clean energy widely affordable.
The Mission Innovation website states that accelerating widespread clean energy innovation is:
An indispensable part of an effective, long term global response to our shared climate challenge;
Necessary to provide affordable and reliable energy for everyone and to promote economic growth; and
Critical for energy security.
In line with the Breakthrough Energy Coalition, Mission Innovation was formed to fill accelerate the time between innovation, scale-up and commercial scale availability.