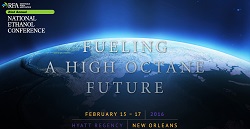 The organizers of the 21st Annual National Ethanol Conference are offering attendees a sneak peek of what they'll see at the gathering Feb. 15-17, 2015, at the Hyatt Regency in New Orleans… while also offering a view of the future for the ethanol industry.
NEC 2016, Fueling a High Octane Future, will highlight how ethanol's high octane content is driving demand for the fuel both domestically and abroad. Industry experts will provide a look at the current state of the industry, as well as forecasts for the future.
Featured Session Highlights Include…
Keynote Address from John Hofmeister, former president of the Shell Oil Company
Energy Markets Outlook with Tom Kloza, Global Head of Energy Analysis at Oil Price Information Service (OPIS)
High Octane Means High Performance Addresses ethanol's benefits as a high octane fuel source for today's vehicles, as well as future advanced engine technologies
Government Industry Conversation About the Future of U.S. Biofuels Policy, including a discussion on how evolving fuel policies present both challenges and opportunities to industry
Why Some Marketers Choose to Sell E15 and Flex-Fuels, and Others Don't provides first-hand insight on the regulatory and marketplace environment presented by higher ethanol blends.
Opportunities for Ethanol Export in Key Target Markets will involve experts from the target markets of the International Buyer Program (Brazil, China, India, Mexico & Philippines) to provide detailed information on export opportunities for the U.S. ethanol industry
High Octane Fuels: Economic & Environmental Benefits will present a macro picture of the economic and environmental advantages of ethanol as a high octane fuel both domestically and abroad
In addition, those who register early will get some exclusive upgrades.
Register by November 27, 2015 and receive:
An exclusive invitation to participate in a private webinar on the 2016 presidential campaign with a focus on candidates' positions on ethanol issues (taking place on January 14, 2016)
Entry into a drawing to win a complimentary Executive Suite upgrade
Entry into a drawing to receive a complimentary registration to NEC 2017
And if that weren't enough, the NEC Scholarship Program will see six students have their full cost of the conference registration fee – an $895 value – paid for in full. Deadline to apply for the scholarship is December 18.