Vice President Joe Biden welcomed attendees at the Solar Power International 2015 (SPI) this week. He is the first Veep to deliver remarks at a solar power conference in the U.S. He spoke during the general session and discussed the importance of solar power for America's energy present and future.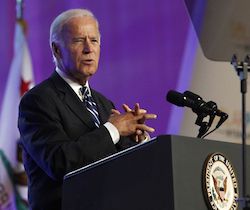 "Vice President Biden addressing Solar Power International shows just how far we've grown as an industry," said Solar Energy Industries Association (SEIA) President and CEO Rhone Resch. "Solar is now the fastest-growing source of renewable energy in America thanks to the hard work and innovation of its 174,000 workers and smart, successful policies like the solar Investment Tax Credit (ITC), Net Energy Metering (NEM) and Renewable Portfolio Standards (RPS). Solar energy is a true American success story and we're happy to celebrate that achievement today with the Vice President."
SPI is the largest solar power trade show in North America with more than 15,000 attendees.
"Solar has become a mainstream resource and an increasingly important part of our nation's energy portfolio," added Julia Hamm, president and CEO of the Solar Electric Power Association (SEPA). "Vice President Biden's presence at SPI underscores that fact, and demonstrates that leaders at the highest level are committed to working with stakeholders on the inevitable evolution that is happening within the energy industry."
Continuing on its record-breaking trajectory, the United States solar industry surpassed 20 gigawatts (GW) of total operational solar photovoltaic (PV) capacity during the second quarter of this year. According to GTM Research and the SEIA Q2 2015 U.S. Solar Market Insight Report, the U.S. installed 1,393 megawatts of PV last quarter, signaling both annual and quarterly growth.