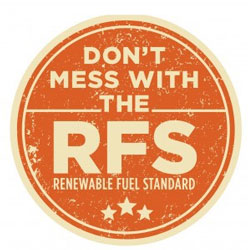 Celebrations for the 10th anniversary of the Renewable Fuel Standard (RFS) began last Friday, with farmers and biofuels advocates beginning a series of grassroots events nationwide.
Over fifty grassroots events will take place at state and county fairs throughout the month of August… Farmers and consumers will have the chance to inform and educate elected officials, and local and national media on the successes of the RFS in the past decade.
… Monday, constituents from Colorado, Illinois, Indiana, Nebraska, Ohio, and Wisconsin are dropping off comments they submitted to the EPA on its proposed multiyear RVOs during the comment period at the district offices of their respective U.S. Senators to show the economic impact of the RFS on their communities and the importance of the RFS to everyday Americans – and to rally for clean, secure, American energy and point to the progress of the past decade under the bipartisan law.
In just the past 10 years, the renewable fuel industry has stimulated the economy, created American jobs, and helped farmers and rural communities get back on their feet:
Consumers: After ten years under the RFS, we have tripled production of homegrown renewable fuel, which now makes up nearly 10% of our motor fuel supply. As designed, the RFS has reduced our reliance on imports from an unstable global oil market, reducing the price of gas and insulating us from price shocks.
Economy: The RFS has spurred investment in biofuels and been a major stimulus to the nation's economy, creating $184.5 billion in annual economic output and $46.2 billion in wages each year, and generating over 852,000 American jobs that can't be outsourced.
Rural Communities: By promoting homegrown, renewable fuel the RFS is America's most successful policy bolstering rural economies and family farmers by injecting more homegrown renewable fuel into our motor fuel supply, and less oil imported from hostile foreign regions. Thanks in large part to the RFS, farm income rose 88% from 2006 to last year—nearly doubling.
Environment: The RFS is the most effective policy reducing America's greenhouse gas emissions. The RFS also cuts down on asthma- and cancer-causing pollution in the air we breathe and the water we drink. Using traditional corn ethanol represents a 34% reduction in greenhouse gas emissions compared to regular gasoline, according to research by the Department of Energy. Advanced biofuels like cellulosic ethanol reduce greenhouse gas emissions by 88-108% compared to gasoline—and independent studies have proven we need renewable fuel volumes at statutory levels to keep the advanced biofuels industry moving forward. Last year, ethanol-blended gasoline was responsible for cutting greenhouse gas emissions by nearly 40 million metric tons, or the equivalent of 8 million cars removed from the road per year.