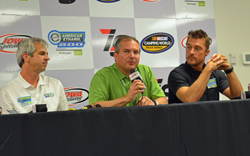 Combining its own patented process for converting the corn kernel fiber into cellulosic ethanol with Syngenta's Enogen corn, specially bred for ethanol production, Quad County Corn Processors (QCCP) is boosting its bottom line, as well as the profits for local growers. During an interview at the American Ethanol 200 in Iowa, CEO Delayne Johnson explained they use the alpha amylase enzyme already in Enogen corn with their own process to enhance the production of ethanol.
"When we combine the two technologies together, the benefits of [Enogen and the technology] allows plants to get up to 15 percent additional throughput, reduce energy content by 10 percent, and it also allows them to get all the benefits out of [both technologies combined]," he said.
Delayne added the $1 million a year his company doesn't have to pay for the alpha amylase enzyme it would have had to add to ethanol production allows it to pay premiums to local farmers.
"It's been fantastic for continuing to turn the dollars in rural America."
Listen to all of Chuck's interview with Delayne here: Delayne Johnson, CEO of Quad County Corn Processors