The governors of Iowa and Missouri both spoke out in bipartisan support of the Renewable Fuel Standard (RFS) during a hearing and rally Thursday in Kansas City.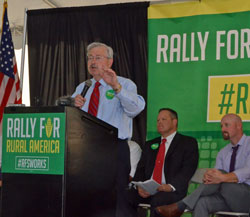 Iowa Republican Governor Terry Branstad drew applause several times during his testimony at the public hearing on EPA's proposed volume obligations under the RFS. "We are pleased to be here and get outside the Beltway where Big Oil's army of well-paid lobbyists seem to have so much undue influence," said Branstad to applause. While Branstad acknowledged the positive changes EPA made in the proposal for biodiesel, when it comes to ethanol "the agency seems to have bought Big Oil's faulty arguments hook, line, and sinker."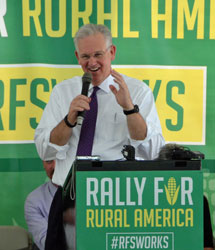 "By setting the RFS below the Congressional targets, the EPA caps the amount that will be produced," said Missouri Democrat Governor Jay Nixon. "It is counter intuitive for the agency charged with enforcing the clean air laws to impose a defacto limit on ethanol, a product which so clearly emits fewer greenhouse gases in the atmosphere."
"Quite frankly, I'm not seeing how it's going to hurt our economy to produce cheaper, better, cleaner fuel, and it's certainly not going to hurt our environment," said Nixon.
Both governors went from the hearing across the street to a Rally for Rural America to support the RFS and both had their state agriculture directors with them as well. Listen to or download their testimony and rally speeches below.
Iowa and Missouri Governors at EPA Hearing
IA and MO governors and ag directors at RFS rally