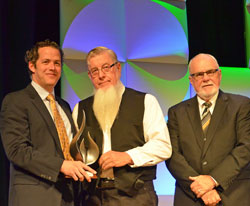 Awards were presented at the 2015 Fuel Ethanol Workshop on Tuesday morning, honoring those who have helped the ethanol industry move forward.
The High Octane Award was presented to Ray Defenbaugh, CEO of Big River Resources in West Burlington, Iowa. Defenbaugh serves on the board of directors for both the Renewable Fuels Association (RFA) and Growth Energy. His words of encouragement for the industry after Friday's RVO announcement from EPA are "Don't quit, don't stop, and do not surrender."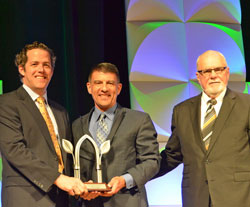 John Caupert, director of the National Corn Ethanol Research Center (NCERC) at Southern Illinois University – Edwardsville, received this year's Award of Excellence. Caupert has more than two decades of experience in the agriculture and biofuels industries and was hired to the NCERC post in 2006.
Interestingly, both Defenbaugh and Caupert are "Salukis" – graduates of Southern Illinois University in Carbondale – and even had the same academic adviser! Congrats to both for well deserved recognition.
Presenting the awards were BBI International VP of Content Tim Protz and chairman Mike Bryan.