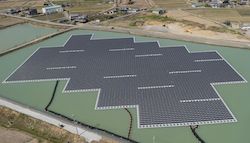 Kyocera Corporation and Century Tokyo Leasing Corporation's joint venture Kyocera TCL Solar has completed construction of two floating mega-solar power plants at Nishihira Pond and Higashihira Pond in Kato City, Hyogo Prefecture, Japan. The plants will generate an estimated 3,300 megawatt hours (MWh) per year.
The solar modules are 255-watt Kyocera modules with 11,256 used in total for the project that began in September 2014 and was officially completed in March 2015. The electricity generated will be sold to the local utility, The Kansai Electric Power Company through Japan's feed-in tariff system.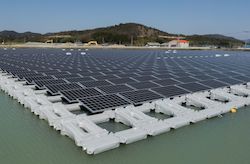 According to Kyocera TCL Solar, there are several benefits of the floating mega solar power plants:
Floating solar power generating systems typically generate more electricity than ground-mount and rooftop systems due to the cooling effect of the water.
They reduce reservoir water evaporation and algae growth by shading the water.
Floating platforms are 100% recyclable, utilizing high-density polyethylene, which can withstand ultraviolet rays and resists corrosion.
The floating platforms are designed and engineered to withstand extreme physical stress, including typhoon conditions.