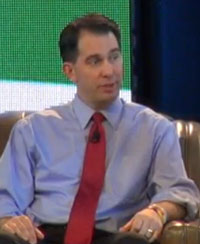 Nine potential Republican presidential were asked to address their opinions on the Renewable Fuel Standard (RFS) at the Iowa Ag Summit in Des Moines on Saturday. The final score was six in favor, three opposed.
On the plus side were former Florida governor Jeb Bush, New Jersey Gov. Chris Christie, former Arkansas Gov. Mike Huckabee, South Carolina Sen. Lindsey Graham, former Pennsylvania Sen. Rick Santorum, and Wisconsin Governor Scott Walker. Last to speak at the event, Walker said he viewed the RFS as an access issue. "So it's something I'm willing to go forward on, continuing the Renewable Fuel Standard and pressing the EPA to make sure that there's certainty in terms of levels set," said Walker, adding that he would like to see market access issued addressed in the long term and voicing support for blender pumps. "Right now we don't have a free and open market," he said. Iowa Ag Summit comments from Wisconsin Gov. Scott Walker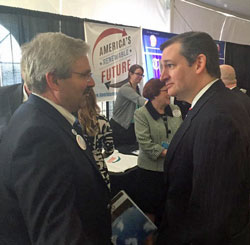 On the Texas side are former Governor Rick Perry, who sought a waiver from the RFS in 2008 and said it should be left to the states, and Senator Ted Cruz, who said it would "be the easy thing" for him to say he supported the RFS before the Iowa crowd. "But I'll tell you, people are pretty fed up, I think, with politicians who run around and tell one group one thing, tell another group another thing, and then they go to Washington and they don't do anything that they said they would do," said Cruz. He compared the RFS to "corporate welfare" and said the government should not pick winners and losers and said ethanol was a big enough part of the industry that "demand will continue without the federal mandate."
Cruz is pictured here with Bill Couser, an Iowa cattle producer and ethanol supporter who is co-chairman of America's Renewable Future (ARF), an Iowa based bipartisan coalition that supported the summit. He invited both Cruz and Perry to visit his operation in Nevada.
"Show them why we do this, how we do this, and say what do you think?" said Couser in an interview at the recent National Ethanol Conference. "I can say, let's go look at a corn field, let's go look at a feedlot, let's go look at some windmills, let's go look at Lincolnway Energy, and then let's go to the DuPont plant right next door and I'll show you what we're doing with the whole plant and being sustainable."
Couser says they plan to approach all potential presidential candidates individually and invite them to visit and learn more about agriculture and renewable energy, including Hillary Clinton. "Wouldn't that be something if she showed up?" he said.
Listen to my interview with Bill here: Interview with Bill Couser, America's Renewable Future Co-Chair
Also opposed to the RFS is former New York Gov. George Pataki, who "supports ethanol", but honestly doesn't think "the federal government should require anybody in America to buy anything, whether it's renewable fuel or Obamacare" and thinks the RFS should be "phased out."