According to a new report released this week by the U.S. Department of Energy's (DOE) Energy Information Administration (EIA), more wind power was added to the grid in 2014 than any other energy resource. The data shows wind power generated 4.4 percent of all the electricity in America in 2014 and maintained its position as the fifth largest electricity source in the U.S. Iowa led the nation by producing 28.5 percent of its electricity from wind power, followed by South Dakota at 25.3 percent and Kansas at 21.7. Wind energy provided more than 15 percent of electricity in a total of seven states, more than 10 percent in a total of nine states, and more than five percent in a total of 19 states.
All renewable energy sources including hydropower now deliver more than 13 percent of the nation's electricity, with wind energy providing more than one-third of that total.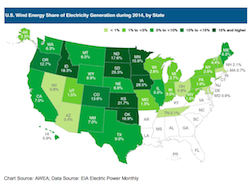 "The U.S. is blessed with an abundant supply of wind energy. Pairing this homegrown resource with continued technology innovation has made the U.S. the home of the most productive wind turbines in the world," said Emily Williams, deputy director of industry data and analysis for American Wind Energy Association (AWEA). Analysis released last year found the U.S. is number one in the world in wind energy production.
AWEA cites the wind industry growth as being driven by technological improvements and cost declines that have reduced the cost of wind energy by more than half over the last five years, as documented by Lawrence Berkeley National Laboratory.
In 2014, wind provided enough electricity to power the equivalent of 16.7 million homes, or all the residential households in Iowa, Kansas, Minnesota, Nebraska, North Dakota, South Dakota, Colorado, Idaho, Illinois, and Montana. Once recently added U.S. wind projects have had a full year of production, total wind output will likely rise to powering the equivalent of 18 million homes.
"Wind has more than tripled since 2008, it can double from where it is today to 10 percent by 2020, then double again to 20 percent by 2030, and become the leading source of electricity in the U.S. by 2050," said added Kiernan. "However, to get there Congress must provide wind with the same policy certainty it provides to other energy sources by rapidly extending the Production Tax Credit for as long as possible."