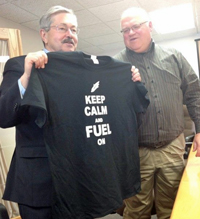 Golden Grain Energy officials and employees had the opportunity to thank Iowa Governor Terry Branstad for his support of ethanol when he paid a visit to the plant in Mason City on Wednesday.
"Governor Branstad has always been very supportive of the plant and the industry as a whole. It means a lot to be able to have the governor here in person to give a pat on the back to all of the people who have worked hard to help us reach the billion gallon production mark," said Dave Sovereign, Chairman of the Board of Directors at Golden Grain Energy.
Governor Branstad toured the plant as to mark Golden Grain Energy's recent production milestone of producing one billion gallons of corn ethanol.
"The backing and support from the governor's office and from the local community helps us go a long way as we work towards producing another billion gallons of ethanol," said Sovereign.
For his part, Governor Branstad had a photo posted on his Facebook page with – "Golden Grain ethanol just produced their BILLIONTH gallon of ethanol. To celebrate, the governor visited and got one of their t-shirts. "Keep calm and fuel on" ‪#‎iagov‬"